Healthcare – an attractive investment universe
The healthcare sector is worldwide among the most important and fast growing industries. Key growth drivers are demographic trends (population growth and ageing), medical progress and the resulting innovations, rising prosperity (especially in emerging markets) and improved access to medical products and services. In addition, there is a great need for new therapies for a steadily increasing number of diseases. Innovation in products, services and business models remains strong.
Why invest in healthcare?
Major global industry: The most attractive sub-markets generate over USD 1.3 trillion in annual sales
Sustainable demand thanks to demographic change, increasing prosperity and the need for new therapies
High innovative momentum thanks to medical progress
Above-average growth - largely independent of economic cycles
High merger & acquisition activities
Major global industry
The healthcare industry's global sales are estimated at over USD 4 trillion per year. The largest and most profitable sub-markets are pharmaceuticals and biotechnology with just under USD 850 billion and medical technology and diagnostics with more than USD 400 billion.
Sustainable demand
Demographic trends (population growth and ageing) create an increasing global demand for healthcare products and services. In the emerging markets in particular, rising prosperity is further generating above-average growth. Moreover, there is still a great need for new and efficient drugs and therapies.
High innovative momentum
Continuously high application rates for the approval of new drugs and therapies. In addition, more than 800 drug candidates are in the final clinical trial phase in humans or are about to be approved for marketing around the globe. Even if statistically only about half of them are approved for marketing, this still results in an impressive pipeline.
Biotechnology has established itself as the innovation backbone of the large pharmaceutical groups. More than half of the top ten drugs sold worldwide are of biotechnological origin. Recently launched novel immunoncology drugs are the best example of this. All of them come from the research laboratories of small biotechnology companies and were acquired by the large pharmaceutical companies.
Above-average growth
The fastest growing sub-markets are biotechnology, pharmaceuticals, medical technology and diagnostics. Annual growth of 5 to 9 percent is expected over the next five years. The highest growth (5 to 8 percent) is forecast for the emerging markets. Growth rates of just over 4 percent are expected in the USA and Europe. Thus, the long-term growth rates are significantly higher than those of the global gross domestic product.
High M&A activities
Acquisition activities in the healthcare sector are driven primarily by financially strong large corporations whose demand for new products and innovations remains unmet. Large pharmaceutical companies now have large cash reserves that need to be invested wisely. Since mega-blockbuster drugs have become less common in the pharmaceutical industry, partnerships are increasingly being observed as "external sources of innovation" in addition to acquisitions.
The global healthcare market
With about USD 3.5 trillion, the United States are the world's largest healthcare market. At 18.4 percent (2016), the US is also top in the ratio of healthcare costs to GDP. By comparison, health expenditure in Europe amounts to around 12 percent of GDP; the BRIC countries (Brazil, Russia, India, China) average around 6 percent.
Major sub-sectors
Biotechnology
Biotechnology applies biology and biochemistry knowledge to technical processes or products. Biotechnology focuses on the development and production of enzymes, proteins, antibodies and other active substances for medical and other purposes. Biopharmaceutical products are usually produced in a bioreactor with the help of microorganisms. Today, they play a very important role in the treatment of many diseases. These are often large molecule compounds for the treatment of cancer and other serious diseases.
Pharma
This includes companies active in the research, development, production and marketing of active pharmaceutical ingredients. These are usually small-molecule or so-called classical drugs. Veterinary preparations are also part of pharma.
Medical technology and diagnostics
Medical technology combines technical knowledge from engineering with the medical expertise of doctors. The aim is to detect, prevent, monitor, treat or alleviate injuries or disabilities. Medtech includes systems for the administration of drugs, cardiovascular equipment, orthopaedic devices and implants, but also operating materials such as safety pins and syringes.
Diagnostics comprises the various methods of medical and therapeutic diagnosis. Companies active in diagnostics develop new or improve existing diagnostic techniques.
Understanding the healthcare sector
The healthcare value chain
The healthcare value chain - here the US system as an example - includes suppliers for the  manufacturers of drugs and health products. These companies sell their products to patients via service providers. Patients are often only indirectly the payers. Often health insurers, health care providers or state institutions in the health service cover the costs. Distributors, services and facilities in turn settle accounts with the companies. In Europe and Switzerland, the system is simpler with less intermediaries because, for example, unlike in the US, patients' health insurance is not covered by their employers.

Drug development
Clinical development is an important and costly step in the development of new drugs. It begins after the so-called preclinical development, i.e. the search for a suitable active compound. At the end of extensive preclinical test series, a compound usually enters clinical research as an potential active ingredient.
Phase I studies are conducted in volunteers to investigate how the active substance interacts in the human organism and to assess any side effects. Based on these results, an optimal dosage form for the active ingredient is developed.
In phase II of clinical development, the active ingredient is being used as a drug in patients for the first time. Typically, the focus is on testing tolerability and establishing the dose.
Phase III includes studies that provide information on the mode of action which are crucial for approval. In randomised double-blind studies, proof of a comparable effect must be demonstrated against other drugs as well as superiority as compared to placebos.
Once the first three phases of clinical development have been completed, usually the drug's approval process begins.
Development and approval process of medtech products and diagnostics
United States
The development and approval processes for medical technology products and diagnostic devices vary depending on the class assigned to them. Class 1 and 2 products can be approved via the 510(k) process, while Class 3 requires a PMA process. PMA stands for "Premarket Approval Application". Class 3 includes applications for more serious treatments such as defibrillators, implants and dialysis products. A PMA process is much more complex, lengthy and cost-intensive than a 510(k) process. While the 510(k) method requires only safety and efficacy in comparison to a reference product, the PMA method requires monitored clinical trials with randomized patient groups. In addition, manufacturing infrastructure must be inspected and approved prior to approval.
Europe
In Europe, manufacturers themselves declare the conformity of their products. However, they must undergo a conformity assessment procedure comparable to an approval process. All medtech devices and equipment must bear the CE mark ("Communauté Européenne") for distribution in Europe. With this CE mark, the manufacturer declares that the product complies with all relevant EU directives. Once the CE mark has been obtained in one EU country, this generally applies to all other 28 member states. The CE mark is not a seal of quality, but merely an "administrative symbol".
More opportunities for investments in the healthcare sector
It's not all about pharma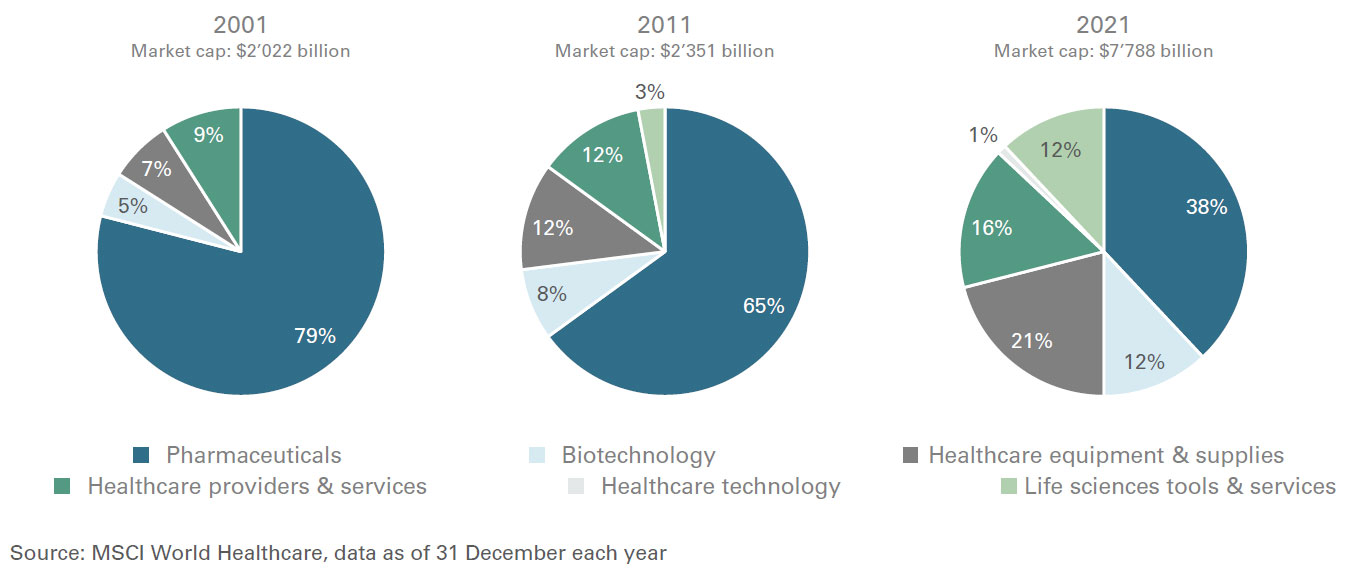 Healthcare defensive growth characteristics have not changed over the recent years, but the nature of the companies that comprise the sector have. For example, pharmaceuticals made up to 80 percent of the benchmark MSCI World Health Care Index in 2001. By the end of 2021, however that share was no more than 38 percent. The weighting of biotechnology and medical devices, meanwhile, nearly tripled over the same period.
Rising healthcare costs and accelerating innovation are driving disruption across the continuum of disease prevention, detection and management. To succeed in this rapidly evolving landscape, companies must demonstrate a clear value proposition to their customers, the health system and ultimately patients. In today's complex clinical environment, contending with the challenges and realizing the yet untapped potential of technological and medical research innovations will require a sharper focus on the evidence as a way to drive improvements in the effectiveness and efficiency of the healthcare system.
The disruption in the healthcare value chain is rapidly moving forward. This has substantially changes the way market forces can impact the sector's performance, but it has also grown the opportunity of investors to participate in the growth of companies around the globe that will flourish in a rapidly evolving healthcare landscape.